Shipping in Dry Dock Italy
As a speciality contractor, with a uniquely formulated dedicated coating system, Mendabath UK was approached by our client to restore baths as part of a larger project on the cruise liner, The Oosterdam, which was in dry dock in Palmeiro, Sicily
Quoting on work which is unseen, in a foreign country, in an environment where you can not simply pop to the shop to get something that you forgot created its own unique challenges, specifically when it comes to the planning and logistics phases of such a project.
Another major hurdle was trying to liaise with the project managers and the ship to establish the RAL colour of the baths needing restoration.  After numerous back and forth communication, and reviewing of the data and pictures it was agreed the colour was RAL 9001.  As such the coating and toners packs were calculated according to the agreed colour.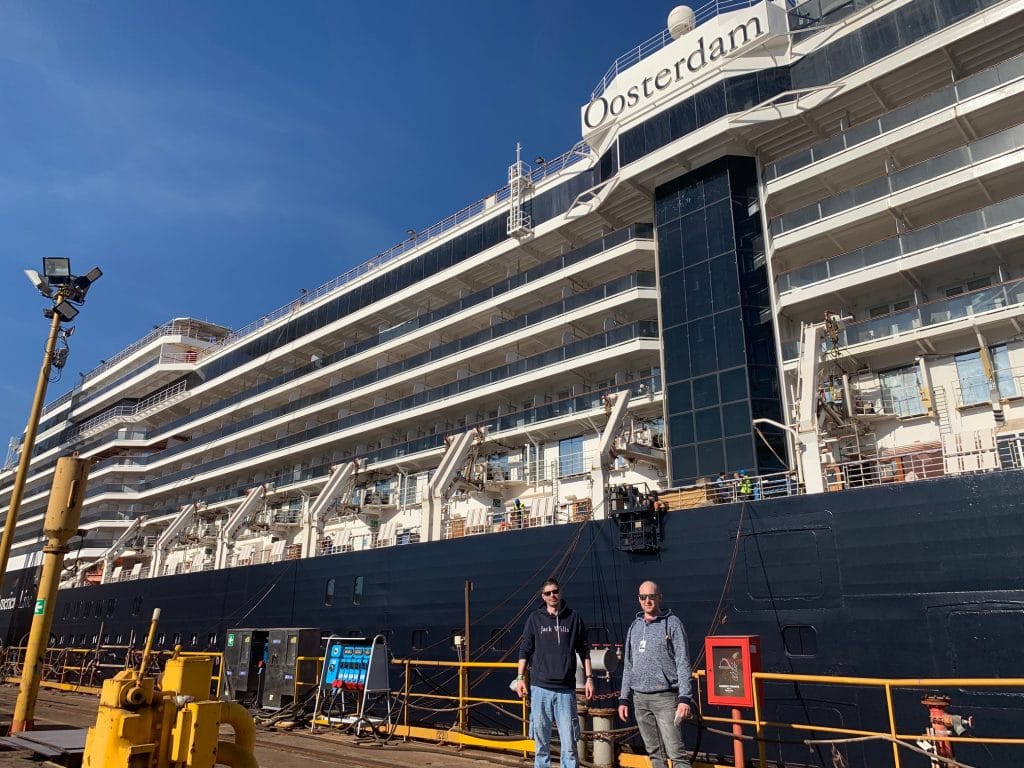 Ensuring that everything you will need to complete a week's work on a ship in a foreign country particularly with the above challenges, which are further compounded by the need to pack everything 3 weeks before departure and into shipping crates which will then be on board when you arrive forming our base of operations.
With everything packed and shipped out including some additional toners it was just a matter of waiting before the crew jumped on a plane and joined the ship and hopefully our equipment.
Arriving in Palmeiro we were greeted by cloudless sunshine which was a pleasant change from the gloomy UK weather we had come from.
Briskly we were hustled away to waiting transfers and in no time at all we were standing on the dry dock waiting to board the Oosterdam as she stood on timber struts above a dry concrete floor in the dock.  
Once the crew had cleared security, covid checks and located our stock boxes, it was off to check out the baths for the first time.  It was immediately clear that the agreed colour was way off and was in fact RAL 1013.  We spoke to our factory and got an updated formula sent over, and after a quick calculation of toner on board, we were back on track.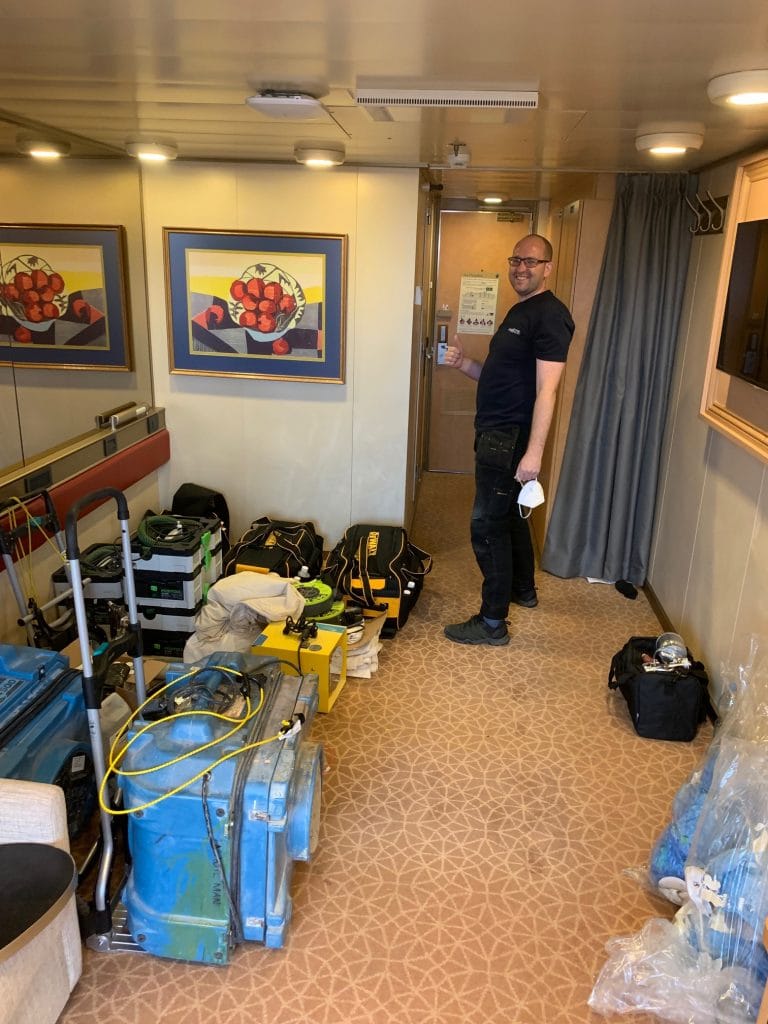 The baths were all acrylic, covered in silicone, and had been badly repaired on the bases only.  The crew gathered around and we collectively came up with a preparation, masking and spray plans.  With every member in agreement of the process we set about implementing it.  
After the first day we were technically on track but with the unexpected hold up in waiting for the updated formula, we had not yet sprayed a bath, and did not know how the coating would fair in the particular humid and confined conditions.  
On day 2 the team really kicked into shape and started operating as a cohesive unit.  The allocated daily targets of baths to complete where being reach with process improvements shared among the crew as the work was being knocked off in a methodical way at an exceptional level of quality under challenging working conditions.  
Half way through the project the ship was refloated in the dry dock and moved out to a wet dock.  This created a lot of excitement amongst those on board and felt like a treat to be part of.
On the final day for the project, we only had 2 bathrooms to complete so a relatively easy day of finishing off and packing up was completed before sun downer drinks inside as it was pouring with rain outside for the first time in a week.