Shangri-La Hotel Bath Repair and Polish
Mendabath was asked by the team at the Shangri-La to quote on restoring 189 of their baths at the hotel in the iconic Shard at London Bridge.  
Needless to say there was no shortage of team members offering to undertake the 'no obligation' survey of the works.  
After completing a detailed survey including understanding how the hotel wanted to roll out the project, a test bath was scheduled in to show the team at Shangri-La what we were proposing to do to the baths.  And a formal quote, project plan and RAMS were delivered to the client for their consideration.  
It was agreed to roll out the project by sending a crew to the hotel for 2 days a week for 5 and a half consecutive weeks to complete 36 baths per visit.  This project plan worked well for the first half of the project with hotel occupancy levels consistent sitting around 70 to 80%.  However, with occupancy drastically increasing over the second half of the project planning became more challenging, but the staff of Shangri-la and the Mendabath team worked well together to get things moved around and the works on track to complete on budget and time.  
The Shard in itself is a world of its own and runs like a city with tight protocols and security measured in place.  Once the team understood the rhythms of the building and the various stakeholders, traversing around the building was rather seamless.  With the hotel effectively in the middle of the building, in order to access our work areas, we would need to pass 3 security checks and take 3 different elevators ascending 40 plus floors in total.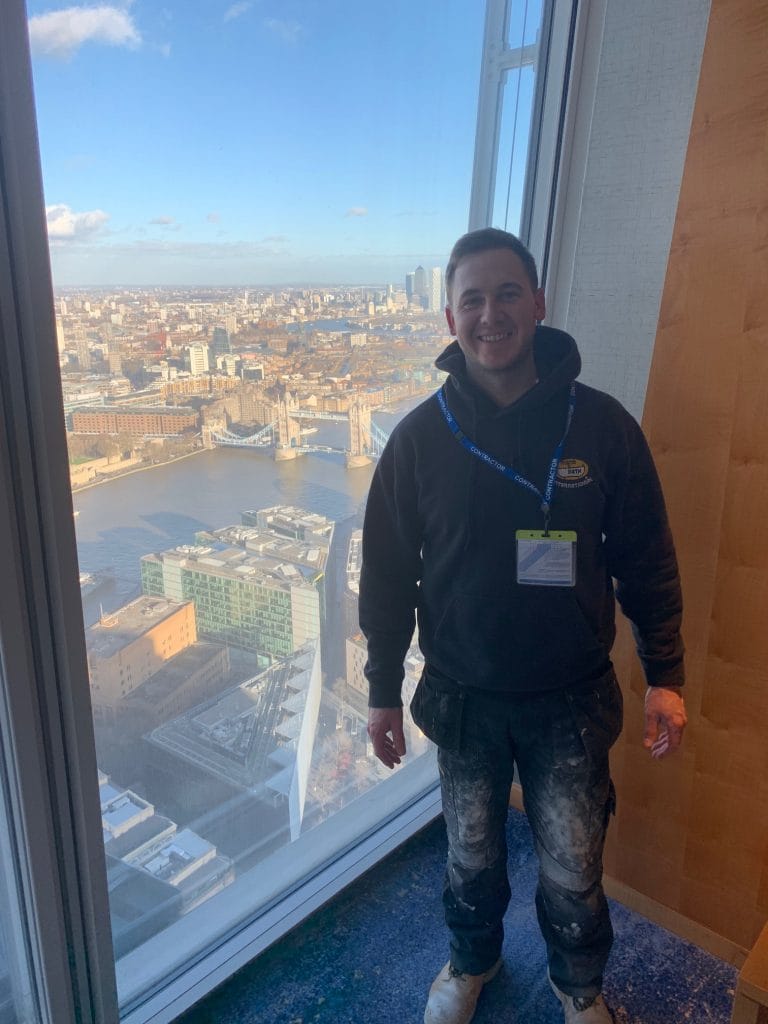 Once in the rooms the views were breath taking and presented a real challenge to stay focused on the task at hand.  Each corner of each floor presented its own breath-taking view the magnificent capital below.  
Once the crew got into the works it was determined that the baths were actually in worse condition then originally thought and thus the preparation methodology was adjusted to better reflect the state of the baths.  
All the technicians who were involved in this project enjoyed the work and the work environment once again giving us a behind the scene look at another of the iconic London buildings.