Mendabath UK: Your Premier Choice for Bath, Shower Tray, and Basin Resurfacing and repairs in the Essex and East Anglia area.  
Welcome to Mendabath UK, the leading provider of top-tier in-situ bath, shower tray, and basin resurfacing and cosmetic chip repair services throughout  Essex, Suffolk, Cambridgeshire and Norfolk. With our expertise, you can enjoy substantial savings of up to 80% when compared to the costly alternative of replacement. But that's not all – you'll also be making an eco-conscious and sustainable choice by reducing the demand for new units and curbing the amount of waste being sent to landfills.
Mendabath UK is a proud member of the Mend-A-Bath International, the world's largest network specializing in bath resurfacing and repair services. We extend our exceptional services to both Essex and East Anglia, ensuring that no matter where you reside you can benefit from our solutions. Our mission is simple: we aim to save you both time and money while providing an outstanding customer experience and stopping unnecessary landfill. Our professional technicians and customer-centric office staff are committed to delivering exceptional results at a fraction of the cost you'd incur with a full replacement.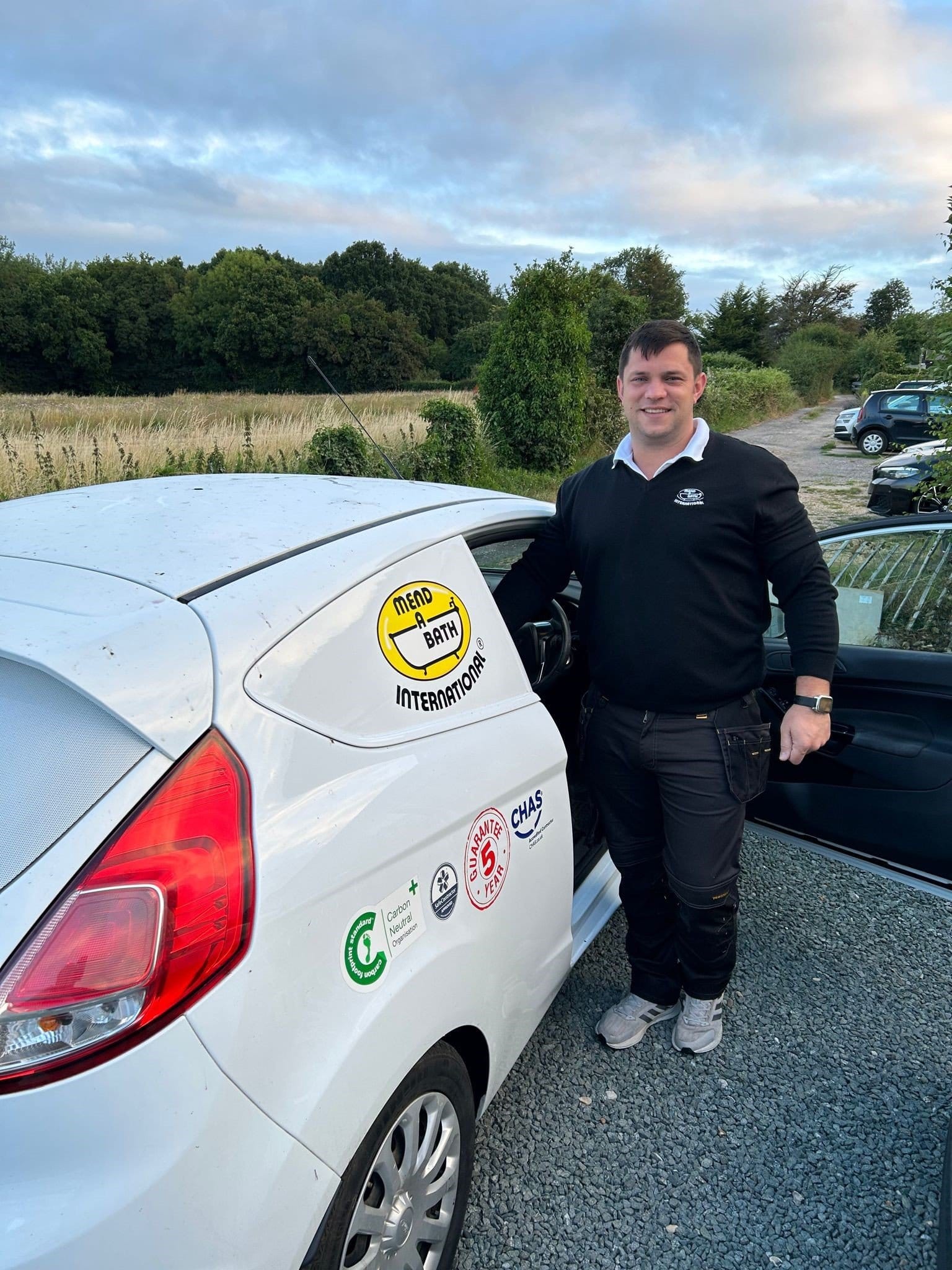 Renew and Revive: Skip the Replacement!
The outcomes of our resurfacing and repair services are truly remarkable, without the typical noise, mess, and inconvenience that accompanies a traditional renovation. Say goodbye to the hassle of builders, plumbers, tilers, and decorators invading your property for an extended period. Discover the impressive transformations for yourself by visiting our Facebook page.
Choose Mendabath UK and experience the difference in bath, shower tray, and basin repair and resurfacing – we're here to save you money, save the environment, and save you from the stress of costly replacements.
Frequently Asked Questions
Contact Mendabath now for a free, no obligation quote.
We aim to offer a seamless process from first contact too completion of your newly resurfaced bath, basin or shower tray works.
When you call us on our free phone number 0800 328 4324 you will be greeted by Lynne on the other side. Lynne will personally deal with your enquiry and answer any questions you may have. Once we have pictures of the unit to be resurfaced or repaired along with some additional information such as type of surface, colour required and a bit history of the unit like if it's been resurfaced before, we will supply you with a formal written quote along with our terms and conditions. Giving you all the information, you need to make the best decision for yourself.
One important thing to note is that we do not give estimates or drip freed cost into the quote like parking or travel. The written quote you get from us is all-inclusive, and all our services come fully guaranteed. If you instruct us to carry out a full resurfacing for you, this work will come with a full 5-year guarantee and if you only require a cosmetic repair this work will come with a 1-year guarantee. Thus, ALL the work we carry out is guaranteed without exception. Once you have accepted the quote Lynne will again work with you to arrange a mutual agreeable time to carry out the works. Our lead times are generally around 2 – 4 weeks.
Please get in touch today for a free no-obligation quote