The Mendabath team of skilled restorers and resurfacers, have undertaken multiple bathroom pod restoration projects to restoring bathroom pods for corporate clients across a vast spectrum of industries.  Such projects have included a hotel containing 150 pods, a university residence containing 280 pods and multiple trips to work on Cruiselines in dry docks around the world as well as some smaller projects too containing 1- or 2-bathroom pods.  Using our bathroom pod restoration service, we have the skills to resurface almost all aspects of modular bathrooms.  It may only be the sink or simply the floor that needs restoration work or even a whole pod restoration.  We can and have done it all. 
In a fast-paced world where space time and resources are ever pressed, bathroom pods have become ever more popular.  The problem is once they in, replacement is restrictive in terms of time money and access.  This is where Mendabath UK can step with our bathroom pod restoration service to rejuvenate, modernise or simply repair your pods.  
If you are looking to have your bathroom pods restored by choosing Mendabath you can rest assured, you are dealing with a professional outfit who is used to delivering large scale time sensitive bathroom restoration projects.  If that wasn't enough, we believe in being part of the circular economy, restoring opposed to replacing, and as such it's only natural that we are also the first Carbon Natural Bathroom pod restoration company in the UK.  By choosing Mendabath UK as your Bathroom pod restorer you will be adding another Carbon natural supplier to your supply chain.  Helping your business reach its sustainability targets     
Using our bathroom pod restoration service, we have the skill to resurface items such as bathroom pods which are found in cruise liners and hotels.
We have successfully resurfaced bathroom pods at Easy Hotel in London, Victoria and Paddington. The Easy Hotel pods were done in three assorted colours which totally transformed and modernised the pods.
We have also worked on P&O Cruise Liners during dry dock refit as well as working alongside architects and interior designers to create baths with a unique colour as well as restoring unusual baths.
Contact us today for a free no-obligation quote for our restoration service.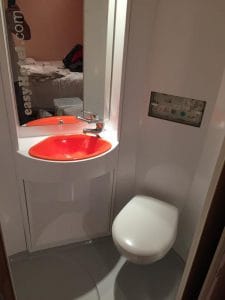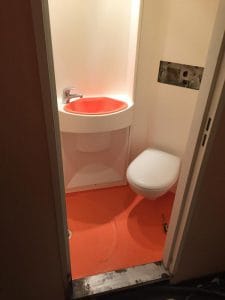 Please get in touch today for a free no-obligation quote