A Eco-friendly, mess free and quick solution for Bath Resurfacing
Old enamel baths tend to become rough and difficult to clean over time, when this happens, it's time for Mendabath UK to conduct our bath resurfacing service. Acrylic baths over time start to discolour, thus making your bathroom look tired. Whether you need an enamel bath resurface or an acrylic bath repair, with Mendabath UK, your sparkling newly resurfaced bath is guaranteed to remain good as ever for another 5 years at least.
The Mendabath UK team can restore the aesthetics of your bath at a fraction of cost with our exclusive bath resurfacing and repair service. Resurfacing is a perfect solution for all kinds of baths ranging from acrylic and enamel to cast iron and fibreglass. Our specialist process is compatible with all materials allowing to carry out work on any type of bathroom suite. From acrylic bath repairs to cast iron bath resurfacing, the finish will have your old bath looking white, bright and clean. Our bath repair and resurfacing service in the UK has helped our customers save more than 60 percent of the cost when compared to the cost of bath replacement. With resurfacing, we get rid of all the stains and scratches, and apply a new surface coating for an immaculate finish.
Replacing a bath can cost you more than money. It creates a lot of mess and you will not be able to use the area for several days. Bath resurfacing is an eco-friendly and vegan friendly alternative that puts an end to all that hassle. Within a matter of hours, your bath will find a whole new sparkle. So, why replace what could be revived? Your bath will be brighter, whiter and smoother. A resurfaced bath will also be easier to clean and keep clean.
We Can Resurface Any Type Of Bath
Whether you have an antique roll top, ceramic bath or a modern plastic bath, Mendabath UK can resurface it and return it to its former glory.
If you're unsure what kind of bath you have then check our guide below.
One of the first questions we will normally ask you is, 'what kind of bath do you have'?  At Mendabath we are able to restore and resurface all types of baths however they all have their own unique characteristics and thus methods to prepare and restore them. It is therefore important for us at the quoting stage to know what kind of bath you have. There are generally two types of baths; metal based or fibreglass/composite based baths.  Metal based baths cover both cast iron and pressed steel baths and have a vitreous enamel coating while fibreglass/ composite baths are all baths with a gel coating finish.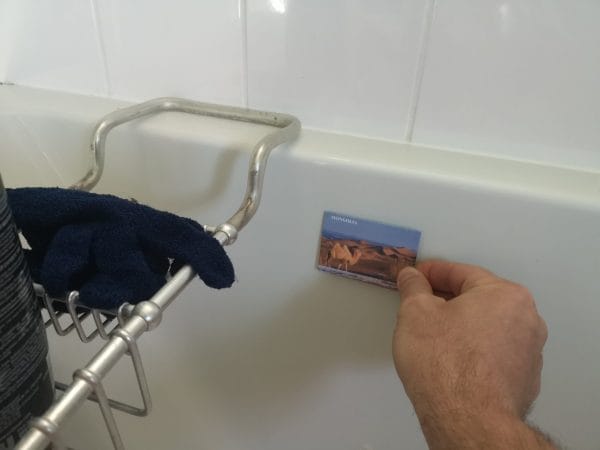 How much does bath resurfacing cost?
This is probably the question we get asked the most, and whilst it is not possible to quote on either with out knowing the specific details we thought we would do our best to provide some rough costings and a comparison of replacing a bath vs resurfacing a bath.
Below you will see a side by side comparison. Estimates for the work involved and cost for replacing bath came from a friendly local builder, and our prices are meant as a guide only. Again, to get accurate pricing for both these services you would need to provide detailed information about the bath and bathroom.
Please get in touch today for a free no-obligation quote